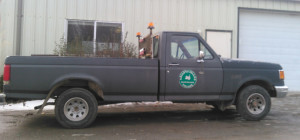 THE VILLAGE MAINTENANCE DEPT.
Our small, but efficient, Maintenance Dept. keeps this Village operating safely and efficiently. They are responsible for road patching, mowing, clean up of public areas. In the winter they plow our streets, winterize our facilities, and keep the airport runway, our lifeline to the mainland, open and clear. They keep our buildings, grounds and vehicles in repair and looking great.
I you observe any problems or unsafe situations
You can use email to contact Maintenance, or contact the Village Office during its business hours to report problems or discuss service needs. Or phone 419-746-2334 to report problems that need immediate attention.
The Village of Kelleys Island
121 Addison St., Kelleys Island OH 43438
419-746-2535 Office@KelleysIsland.us